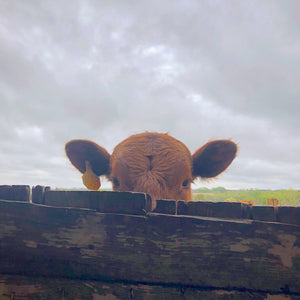 Little Red Farm
Custom 1/4 Beef Example
Regular price
$743.74
$0.00
Unit price
per
Occasionally we have 1/4, 1/2, and whole beef options available. 
To see an example of cost and purchase details see below:
-------------------------------------------------------------------
Custom 1/4 beef, 175lbs hanging weight, to be purchased for $4.25/lb hanging weight with separate fees to Pickrell Meat Locker for processing.  After payment for meat to LRF, you will have also have one payment to the meat locker for processing and packaging your beef which will be approximately 115lbs of meat for your freezer. 
Never ordered custom meat before? Check out the online ordering info and options here to get the scoop on what to expect.
 • Order to meat locker MUST be submitted online through Pickrells online system.
 • Beef was delivered to the locker 10/7/23 
 • Processing fees due to Pickrell Meat Locker at time of pickup, approximately 3-4 weeks after drop off. Butcher fees on a 1/4 beef are typically $250 and will vary depending on the cut and packaging choices you make. Specialty items like meat sticks or jerky will cost more and raise you processing fees. All fees are listed on Pickrells website link. Meat must be picked up within 5 business days of notification it's ready. Meat will need to be picked up at
Pickrell Meat Locker and Smokehouse
217 Austin St, Pickrell, NE 68422, United States
Phone:  402 673 3480
THIS IS YOUR FULL MEAT PAYMENT  TO THE LITTLE RED FARM. Processing payment to Pickrell Meat Locker will be due at the time of pick up. 
THIS IS NON REFUNDABLE should you change your mind. Beef is a 3 year farm commitment and this fee shows your willingness to follow through on processing payments to the locker and pickup. Please read information and dates carefully before purchasing.

Thank you for supporting The Little Red Farm and our local Nebraska beef farm partner with your purchase. We are happy you chose us to help feed your family!

If you have already looked through details and would like to request custom meat, you can add your name to the request form HERE

---