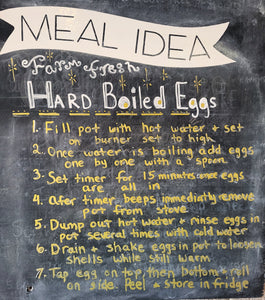 From Mindy's Kitchen at the Little Red Farm: Hard Boiled Eggs Fill a pot with hot water and set on the burner set to high.  Once the water is boiling, add eggs, one by one, with a spoon. Set a timer for 15 minutes once the eggs are all in.  After the timer beeps, immediately remove the pot from the stove.  Dump out hot water and rinse eggs in the pot several times with cold water.  Drain and shake eggs in the pot to loosen shells while still warm.  Tap egg on top, then bottom, and roll on side. Peel...
---
From Mindy's Kitchen atThe Little Red FarmFarm Chili ~Thick & Savory~   Combine in a large pot and cook to brown burger and sauté veggies. 1lb Ground Beef 1 Sweet Onion - chopped 1 Bell Pepper - chopped      Once beef and veggies are done, add to pot: 16oz Can of Bush's Original Baked Beans 2 - 16oz Cans of Black Beans - rinsed and drained 15oz can of Diced Tomatoes 15oz can of Tomato Sauce 2 Tbsp Chili Powder 1 Tbsp Sugar 1 ½ tsp Garlic Powder 1 tsp Salt 1 tsp Dried Oregano 1 tsp Cumin Powder ½ tsp...
---
  Merry Christmas Friend! This time of year always brings memories to the surface. Can you believe this is the 4th Christmas the Farmers Market Shop has been open? Each year has brought its own challenges and blessings. We consider it a privilege to provide resources to our growing community. Here are a few of the things we look forward to offering in the new year!   Locally: Our Farmers Market Shop will continue to be open its regular hours.  Our A2 Grass Fed Raw Milk is our primary product and while we will eventually max out the number of cows...
---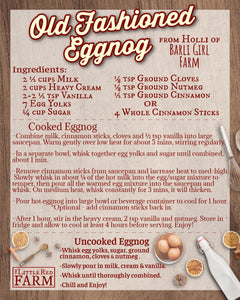 Merry Christmas Friends! This amazing eggnog recipe is from Holli, our very own customer and Barli Girl Farm vendor. You won't be disappointed - Delicious cold or hot, with or without making it an adult beverage. Make some to share...or not. Totally up to you!
---
I don't know who needs to hear this, but…  STOP giving your chickens frozen things to eat when it's hot outside. A chicken's normal internal body temperature is typically 106 degrees Fahrenheit (they range from 105-113*F depending on breed). Their digestive system is also a lot different than yours as the human chicken tender. In hot weather chickens DO need: Access to the outdoors Shade A fan if there is no breeze Fresh cool water (make sure to keep the water in the shade so it doesn't heat up, too). A hydrating treat like watermelon (not frozen) is okay. Chickens...