As we make our way through the holiday's and into 2022 here's a few tools I want to keep on hand and thought you might want the scoop for yourself! Want to "hear" the video without the sound on? Tap that CC button for closed caption and the text captions will pop up! Such a great feature on YouTube.These have been my favorite proactive wellness tools for Dec and I know I will be using them the rest of this winter! Get 24% off by creating your own YL account and get all our community resources ❤️Snag some for yourself here!-----}...
---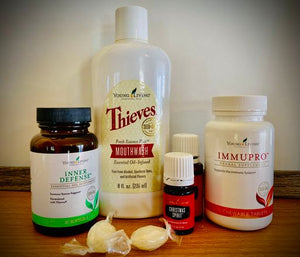 As the air turns colder and the calendar nears its end, here are a few tools I always make sure to have on hand! Order yours by clicking here!  Inner Defense- What: This power house is a gel capsule with Oregano, Thyme, and the original Thieves blend - Lemon, Cinnamon, Clove, Eucalyptus, & Rosemary (often copied, but never truly duplicated).  Why: It gives a big boost to your immune system and a swift kick to anything that might be lurking to take it down. When: We take this anytime we feel a bit off, have been around people that feel icky,...
---
As I type this the current temp is zero degrees... but, I thought I would share with you what winter on the farm means for us beyond shoveling snow, keeping water defrosted and making sure the animals have enough food and dry bedding to stay warm.Winter is actually our time for planning, improvements, and to (hopefully) catch our breath before the excitement and busyness of spring jump starts again. But, unlike crop farmers we don't get to tuck all the equipment away in the barn and sit tight until the thaw. Animals still need to be cared for, milk jugs...
---
Happy Thanksgiving week Little Red Farm Friends! It is always so fun to see you at our annual Chicken & Turkey pick up during Friends & Family Night!  We started the weekend out with 90 chickens and 34 Turkeys and ended it with our 2 turkeys and 12 chickens for our family. Fresh, just processed poultry needs to rest for a minimum amount of time due to the natural changes that take place after death. Immediately after butchering rigor mortis sets in and as the meat chills it will stiffen. If you freeze or cook the bird then, it will...
---