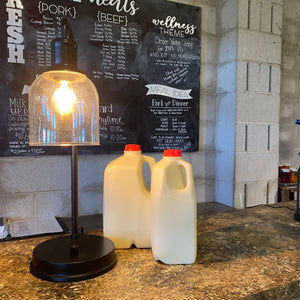 Subscription Milk
Subscription Milk
Regular price
$7.00
$0.00
Unit price
per
*You must already have a current subscription set up with The Little Red Farm before you purchase this. You can find out more about our A2A2 Raw Milk purchase options HERE
Please check to see if your day has 4 or 5 weeks this month and then times your subscription amount by the number of weeks. 
Love my fresh milk!
So many things about LRF and milk! I have had gut problems for years and dairy really upset it. Now that I have been drinking raw milk I can enjoy everything from homemade ice cream, cheese and even my own sourcream. Nothing better!
Going on Four years!
Love their A2 raw milk ! We've been drinking it for almost four years! :)
Raw Milk - Strait from the farm
My subscription from Little red Farm is a great milk at a good price, and no surprises. I appreciate that Farmer Mindy is clear about her expectations for customers, And about the products provided. Changes are always well communicated, and our farmyard friends are awesome.
Been drinking raw milk from Little Red Farm for 3+ years now. The best raw milk we know and love! Thankful for what you do!
My Farm friends
My visits to the Little Red Farm are usually the highlight of my week. I love the milk and the friendships are heartwarming. I also love to see the chickens, turkeys and obviously the girls who are providing the milk!
---